With their scarce nature and seasoned appeal, brownstones in New York City forever remain in demand. However, for all their charm, renovating these prized properties to their full potential typically requires additional time and a larger budget. A complete gut renovation of a brownstone only adds further layers of necessity.
gut renovation definition: What Is The Difference Between A Gut Renovation And A Basic Renovation Or Remodel?
The main difference between a basic renovation or remodel and a full gut renovation is that gutting a home typically requires tearing down the full or partial interior to the framing and re-configuring the floor plan. In brownstone renovations, floor-plan adjustments are often required anyway, due to their dated nature. A basic renovation or remodel usually suggests more cosmetic updates on a smaller scale.
Average Costs Of A Brownstone Gut Renovation
The average cost for a brownstone gut renovation in NYC is around $300 to $500 per square foot and all the way to $600 to 800 per square foot in all custom, ultra luxury renovations. Expect to pay around $900,000, to $1,600,000, to gut renovate a 3,200 square foot brownstone with mid-range to upper-mid tier finishes.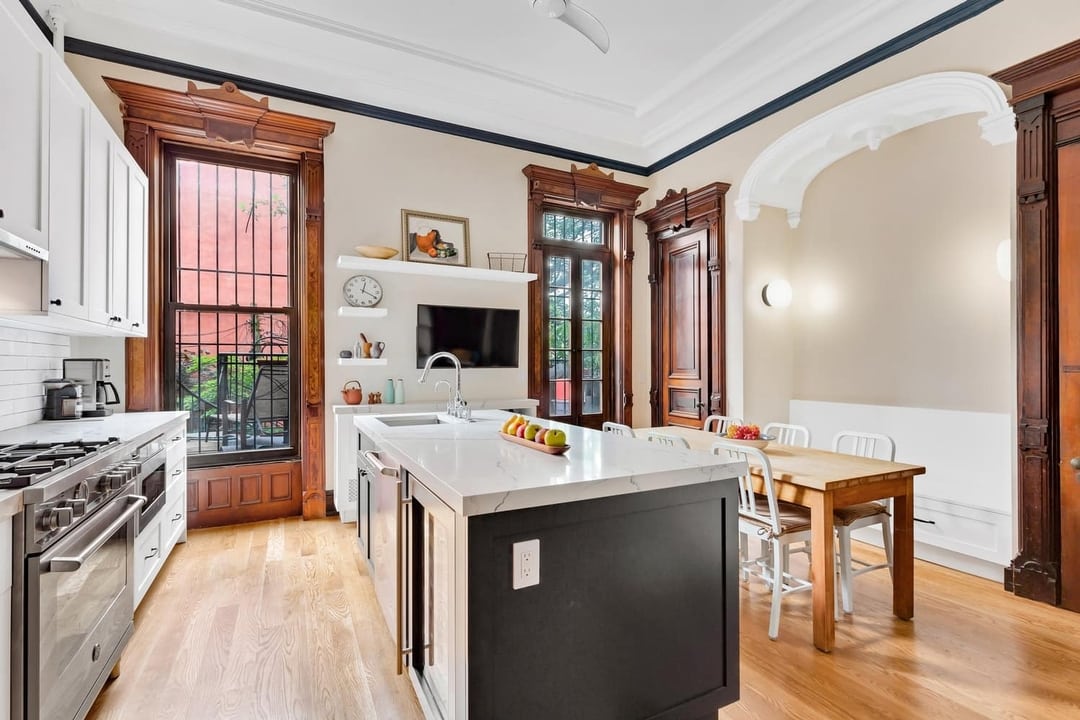 ‍
Commonly Added Costs & Expenses Of A Brownstone Gut Renovation
As a result of their dated nature, a brownstone gut renovation almost always entails additional costs beyond material and labor.
Outdated Electrical And Plumbing
Unless the brownstone's electrical and plumbing systems were recently redone, assume they'll need to be updated in order to proceed with a gut renovation. Brownstones characteristically used galvanized plumbing that both deposits sediments into the water and causes buildup that restricts water flow. Outdated plumbing has also often been insulated with asbestos, which must be professionally removed if pipes are being disturbed. Additionally, electrical systems in New York brownstones were not designed to handle our current average electrical consumption and often require updates to accommodate.
Piecemeal Shortcuts From Prior Owners
Considering the age of most brownstones, finding piecemeal work from previous owners should be expected. There were no overseeing bodies like the NYC Dept of Buildings or the Landmark Preservation Commission (LPC), and prior owners often hired handymen or did work themselves. In worst-case scenarios, certain shortcuts can seriously compromise a building's structural integrity, and correcting them might require support from a structural engineer.
Shaky Structural Work
Aside from risky shortcuts, outdated construction methods may also warrant above and beyond costs for a brownstone gut renovation. For example, balloon framing was popular in the late 19th and early 20th centuries. In this method, framing and wall cavities run hollow from foundation to roof with no platforms to break up structural beams on each floor. Therefore, things like insulation and moisture control problems, unlevel floors, and buckling beams could pose significant challenges for your current renovation.
Removing mold balloon framing and installing platforms is extremely costly, but there are more affordable prevention methods that can be taken. Experienced brownstone contractors typically insulate the walls and use a vapor and moisture barrier. This is crucial for combating energy loss and moisture issues, including mold. In addition, contractors should look for uneven floors where sistering beams might be necessary for leveling and structural support.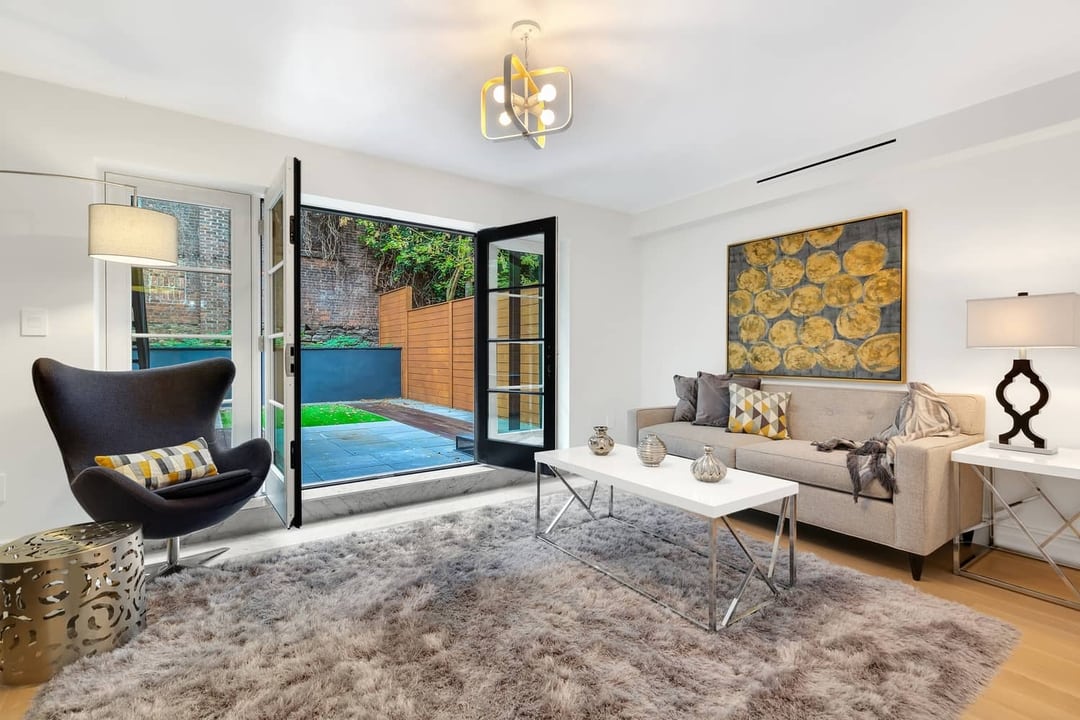 ‍
How Long Does A Gut Renovation In New York City Take? 
Every brownstone renovation timeline looks different. On average, clients looking for a gut renovation can expect timelines similar to these: 
Renovation Timeline | Planning & Prep
If the gut renovation doesn't require building additional rooms or significantly restructuring the brownstone, the planning process takes approximately 90-120 days.
A common factor that extends the planning phase is whether the proposed gut renovation takes place in a landmarked building or whether the renovation requires architectural plans. In this scenario, the plans must first be submitted to the building's reviewing architect for approval. 
Renovation Timeline | Construction & Build
Every gut reno is different and the respective timelines are impacted by the scope, site conditions and building rules. Normally, a gut renovation of an average-sized brownstone renovation takes 6-9 months although timelines can vary based on the specific factors.If the gut renovation doesn't require building additional rooms or significantly restructuring the brownstone, the planning process takes approximately 90-120 days.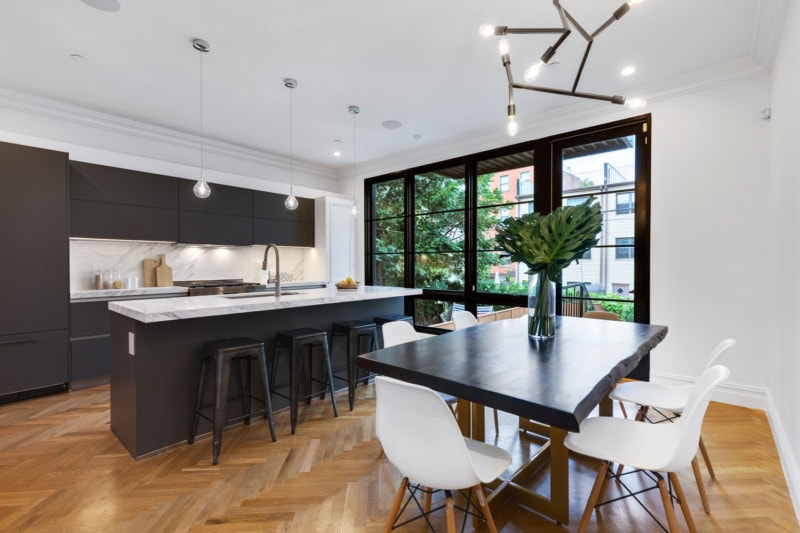 ‍
Why Choose Gallery for Brownstone Renovations in New York City
We are experienced brownstone renovation contractors in New York with an end-to-end design-build approach and expertise to drive all aspects of your brownstone renovation from start to finish, from interior design and architectural planning to building board management and construction - all within one comprehensive price-point. Ready to renovate? Contact us for a consultation.