Getting Your Mid-century modern Tile Bathroom Is Easier Than You Think
The intricate checkered tile bathroom styles of the 2000s were a fad that came and went in the blink of an eye. Although chic, these bathroom tile patterns and designs did not prove to be timeless. As soon as they popped up, they quickly went stale.
Aesthetic is a funny thing. It's subjective and ever-changing, yet timeless looks are forever.
Lately, we've been seeing more and more of our clients gravitating toward the timeless mid-century modern look. They've seen the style in their friends' homes and are eager to figure out how they can recreate the look, during their upcoming home renovation project. That's where we come in, offering our selection and implementation expertise.
Classic Bathroom Tile Designs offer endless Options
Our clients have a unique challenge: They want to stay on trend, but they also want their renovations to look stylish for years to come. After all, people rarely want to remodel their homes multiple times. This is one of the main reasons mid-century modern bathroom tile patterns and designs maintain popularity.
While the patterns have become intricate, the materials are classic — but can be designed with a modern twist. For example, some of our clients have used subway tiles and hexagonal tiles, intermingled with classic colors (white, gray, or black). Then, they pair that look with natural wood finishes to finish the look.
Another great way to achieve a timeless checkered tile design look is using all one color or material, such as green or marble, which can create a quirky jewelry-box effect in your space. You can even preserve that sense of fun and wonder while incorporating classic bathroom tile design ideas or neutral colors.
Tile Decoration in MCM Bathrooms: Both Chic and Timeless
After hundreds of bathroom renovations, we've noticed the most commonly chosen tile patterns are: 
Stacked (Horizontal or Vertical) 
Brick Pattern/Subway 
Chevron 
Herringbone 
Hexagon
Basket weave 
Reason being? These patterns can be incorporated into many different aesthetics.
For example, the quintessential look of a mid-century modern bathroom, involves a subway-style wall tile with a hexagon floor tile. That complementary pairing can then be contrasted by a natural wood tone on a floating vanity, or shelf, to complete the mid-century modern look.
Classic white subway tile, originally seen on the walls of New York City subway stations, adds a timeless appeal to any bathroom. With so many different ways to arrange them, these tiles are a great addition to your bathroom tile tool kit.
While white subway tiles offer a traditional touch, don't rule out some color. Choosing different colors and sizes of subway tiles can bring out the personality of your bathroom, as do colorful grouts and inset tiles. We've seen clients tile their bathroom with traditionally-dimensioned and colored subway tiles, giving the room an unmistakable signature look. A tinted grout can help create a smooth transition between bright white tiles and bold dark shutters.
Mid-century Modern Bathroom design IDEAS
Below are various bathroom renovations from our Before + After portfolio, with a spotlight on mid-century modern design and a focus on tile styles.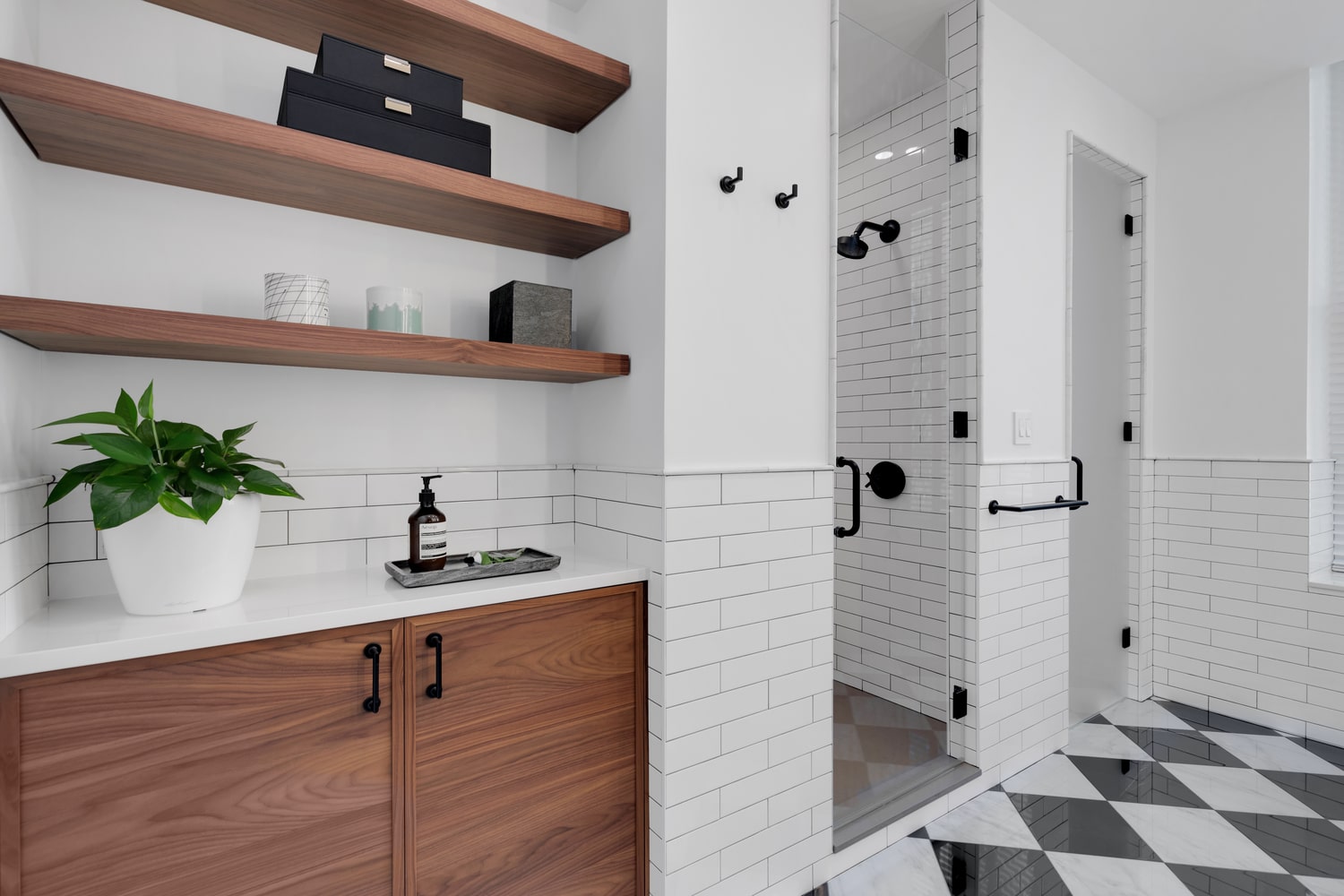 Tribeca ensuite bathroom RENOVATION
For this Tribeca bathroom renovation, we combined traditional black and white checkered tile flooring with walnut vanity and shelving, matte black fixtures, and horizontal white subway tile, delivering a highly-functional, luxe mid-century modern design. See the full bathroom renovation before and after.
‍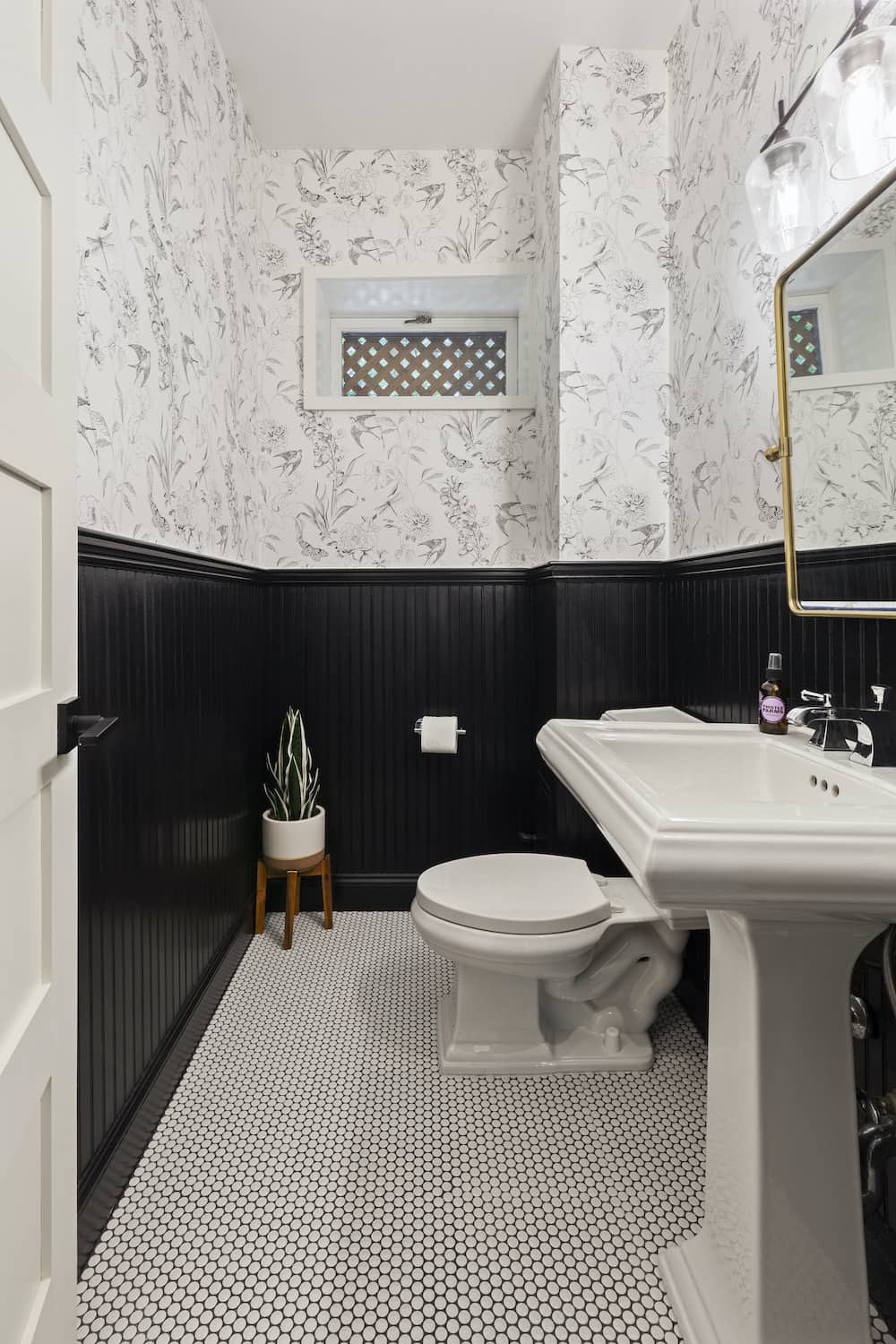 Manhattan Townhouse Renovation
Between the white gloss penny tiles with black grout, wood wall treatments, the subtle floral print wallpaper and gold framed vintage mirror, this powder room delivers subtle MCM qualities. See the full townhouse renovation before and after.
‍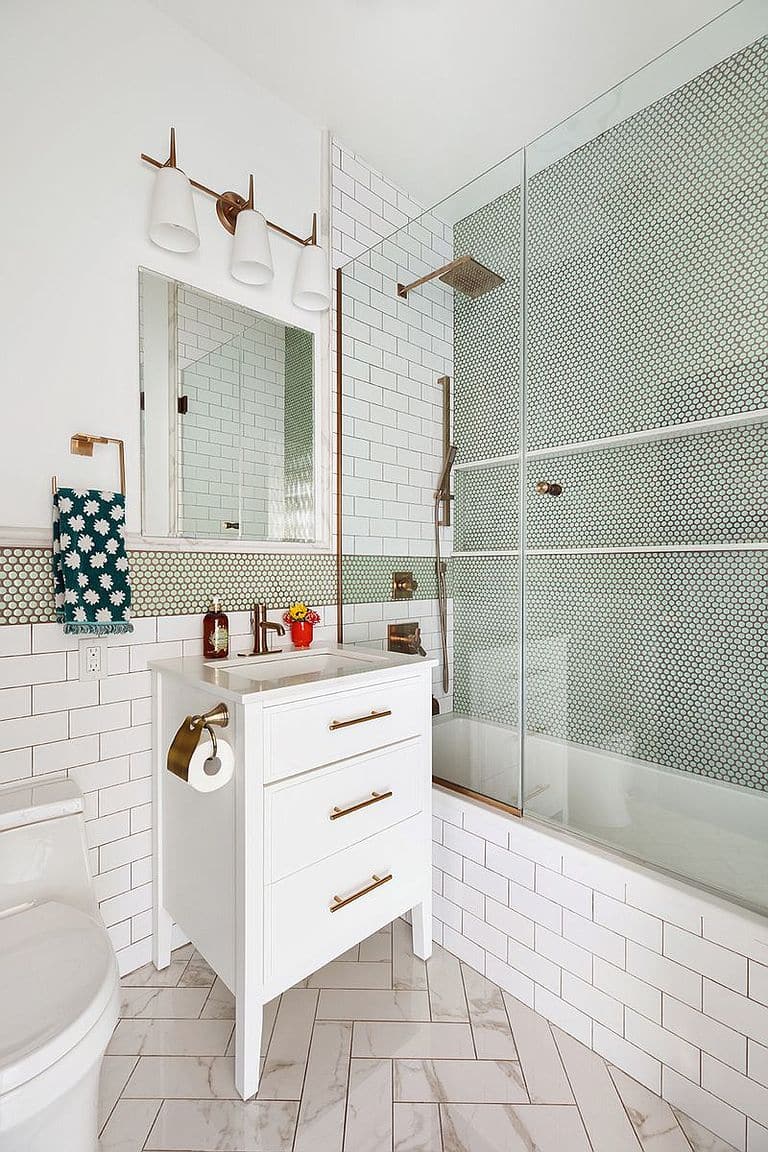 Brooklyn Condo Renovation
Between the horizontal white subway tiles on the wall, herringbone marble tiles on the floor, and white penny tile blending throughout the space, the three styles of tile blend well with the coper fixtures and white shaker cabinet for an eclectic but high-end MCM look. See the full condo renovation before and after.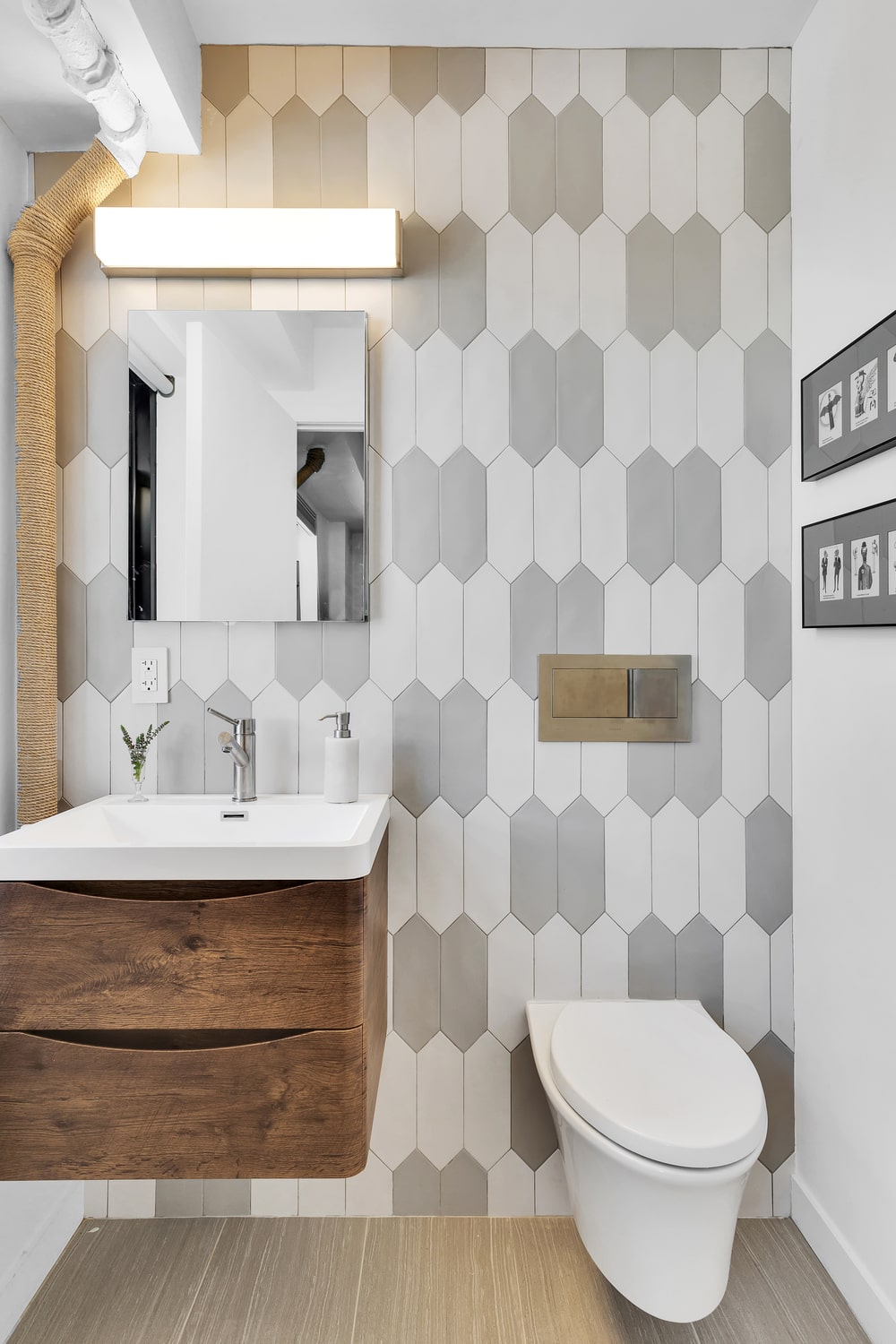 Fort Greene Condo Renovation
The mid-century modern design shines from this powder room renovation, via the wall-mounted rosewood vanity, vertical Mutina Tex tiles, hidden metal paper holder and custom canvass pipe decor. View the full condo renovation before and after.
‍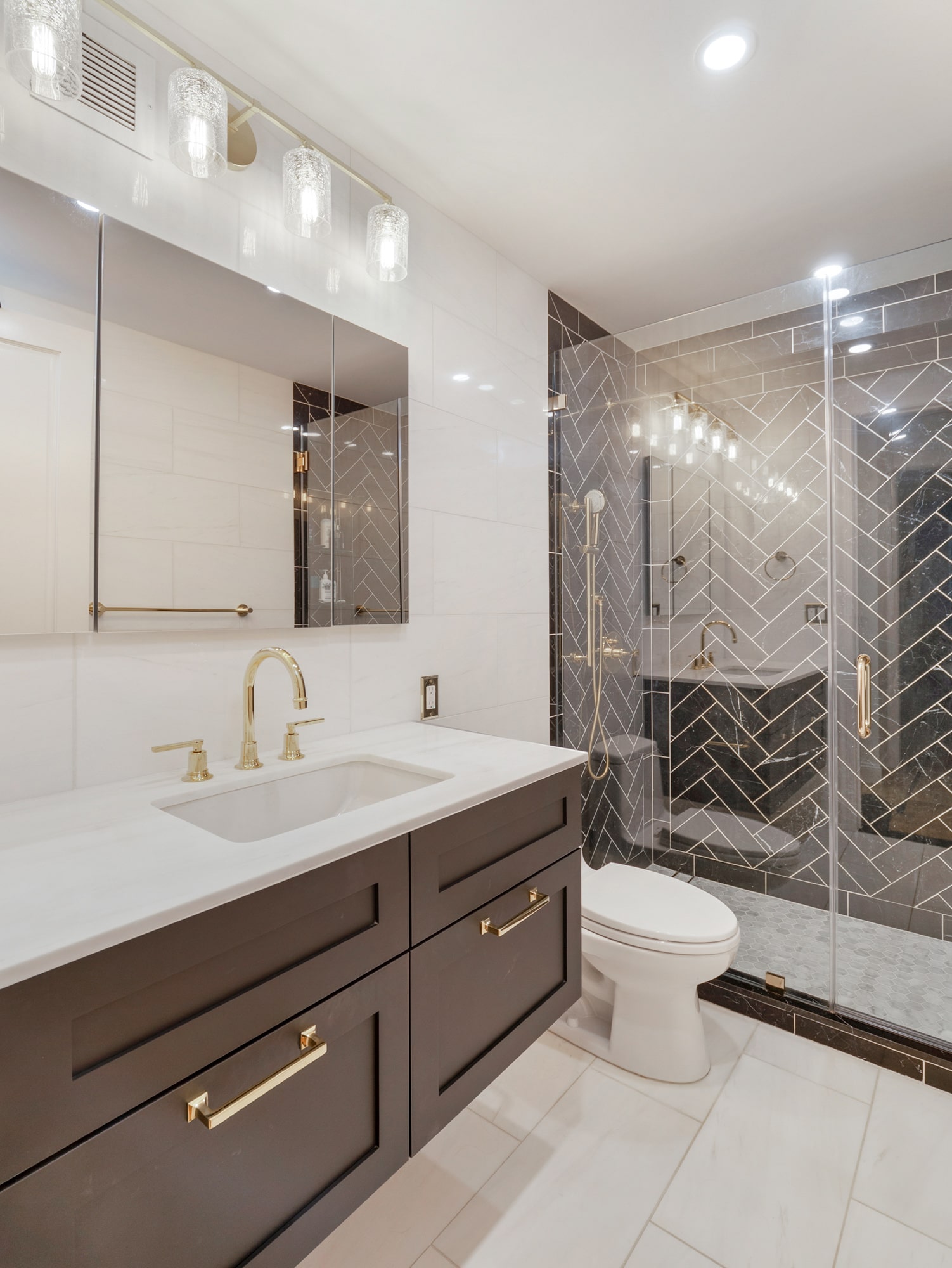 Carnegie hill full condo renovation
Both bathrooms in this Carnegie Hill renovation near Central Park got the MCM treatment. Bathe in the blend of herringbone black subway tile on the shower walls, Portofino marble stones blending from wall to floor, modern frameless mirror, and chestnut vanity. View full condo renovation before and after.
‍
advantages of tile in mid-century modern design
What makes mid-century modern bathrooms so wonderful to design is that the best bathroom tile ideas are not necessarily complex. Instead, they allow for endless variations of ways to bring out our customer's imagination and the personality of the space we're renovating — think color-popping glass tile on the walls or even an accent wall in the shower or bathtub. You can also play off of the checkered tile bathroom design by installing it in a brick, vertical, or stacked pattern. As you can see, the options are infinite.
benefits of working with Gallery for mid-century modern bathroom renovation
If you have a renovation project coming up, the dedicated and experienced team at Gallery Kitchen & Bath can help you sort through all your options and find the best mid century-modern design ideas for your space. Learn more about Gallery, view a portfolio of our renovations in NYC, or contact us to begin conversations about kicking off your dream renovation.
We are an award-winning design-build firm in New York City with a full-service approach to residential renovations in Manhattan and Brooklyn that includes everything from interior design and architectural services to facilitating building management and board approval, to construction and construction management. We're experts in renovating full homes, kitchens, bathrooms, flooring, custom millwork, and all that falls in between.
‍