The average length of a bathroom renovation in New York is hard to ballpark, when considering all the variables (building age, city permits and requirements, budget accommodations, etc). When considering a full gut renovation of a bathroom in NYC, the question becomes even more complex. Demolishing and rebuilding your bathroom from scratch is no small endeavor, and each phase has a distinct timeline.
With so many components, the most efficient way to minimize your bathroom renovation timeline is by trusting the entire process to a full-service design-build firm. Working with trusted experts who can handle the design, procurement, and building aspects of your job is vital to staying on target with timelines, eliminating any unforeseen hold-ups throughout the process. Plus, they offer procurement advantages through various vendors, which can make securing permits, adhering to board regulations, selecting the right finishes and more, much simpler. In New York City, where complete condo and co-op renovations are common, working with an all-inclusive company is even more advantageous.
To highlight that advantage, let's examine the main stages involved in completely remodeling your bathroom and why it's best to place your project in the hands of a design-build contractor.
‍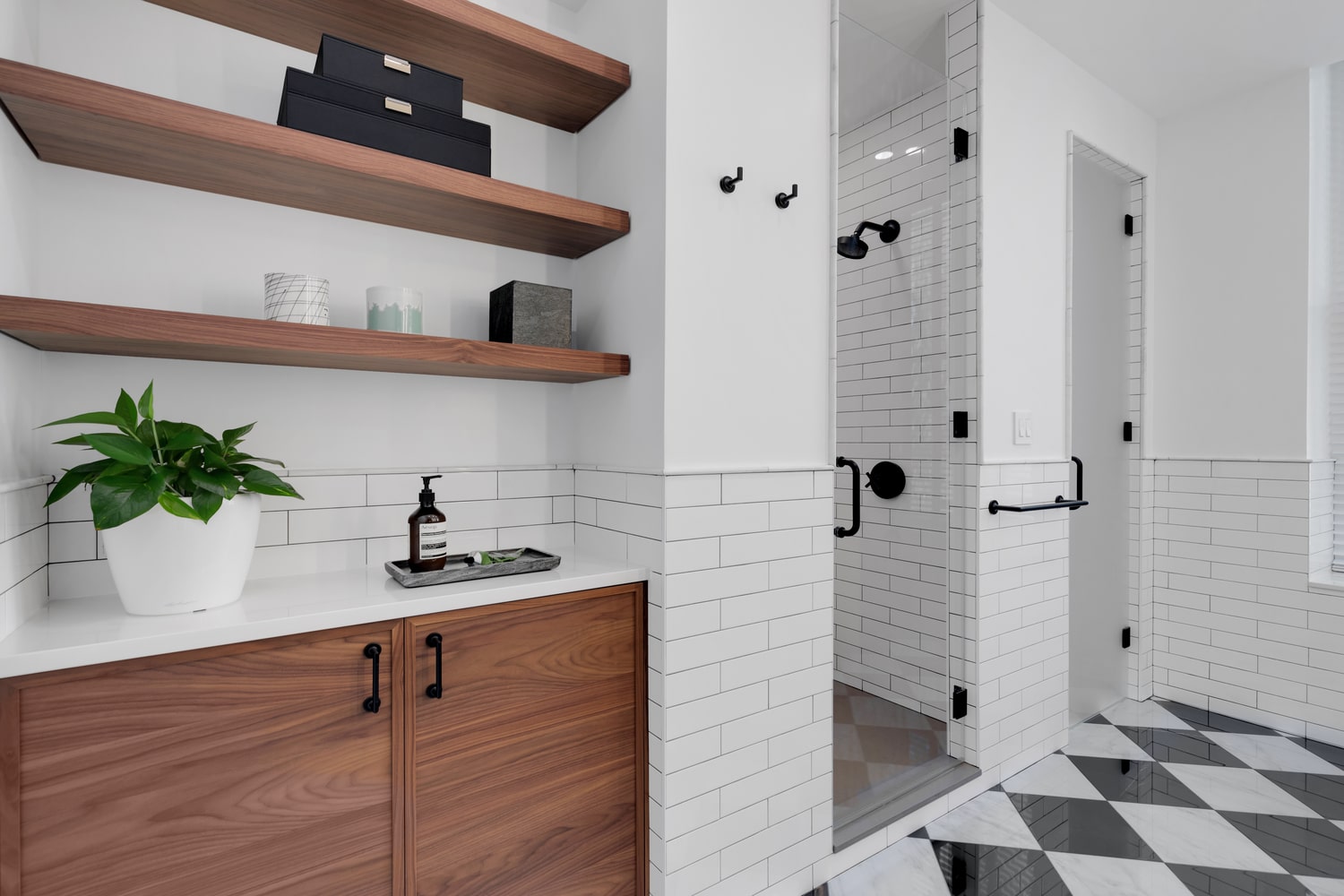 ‍
1. Preparation: Custom-designing your bathroom
Typically takes about 30 days
The first step to any bath remodel is planning, which a designer can help you do by creating a 3D rendering of the full space. The digital model will include every detail, including cabinets, toilets, baths, faucets, and fixtures, all laid out appropriately. Your designer can manipulate the rendering to show you what new layouts with different types of finishes would look like.
If your designer works for a turnkey firm, then the next phase will be to procure the items you've selected for your custom bathroom. In full, the process typically takes about 30 days, depending on how much time you spend selecting your fixtures and finishes. If your designer is independent, or if you handle the preparation phase yourself, then this process will take considerably longer.
2. Demolition: OUT WITH the old
TYPICALLY TAKES two to four days
After preparation comes demolishing the old bathroom and building the new one. Demolition will include carefully and systematically removing everything in the space, including walls, floors, existing fixtures, and anything that isn't a plumbing or electrical structure. First, though, zip walls and sticky pads will be placed around the area to keep dust and debris from spreading throughout the home.
Getting rid of your old bathroom should take only two to four days, depending on the size and whether you live in an apartment building. The process can also take longer if the contractor you hire doesn't work with the building's board beforehand to confirm the regulations he or she needs to follow. Most labor-only contractors aren't experienced in this and often run into time-consuming complications as a result.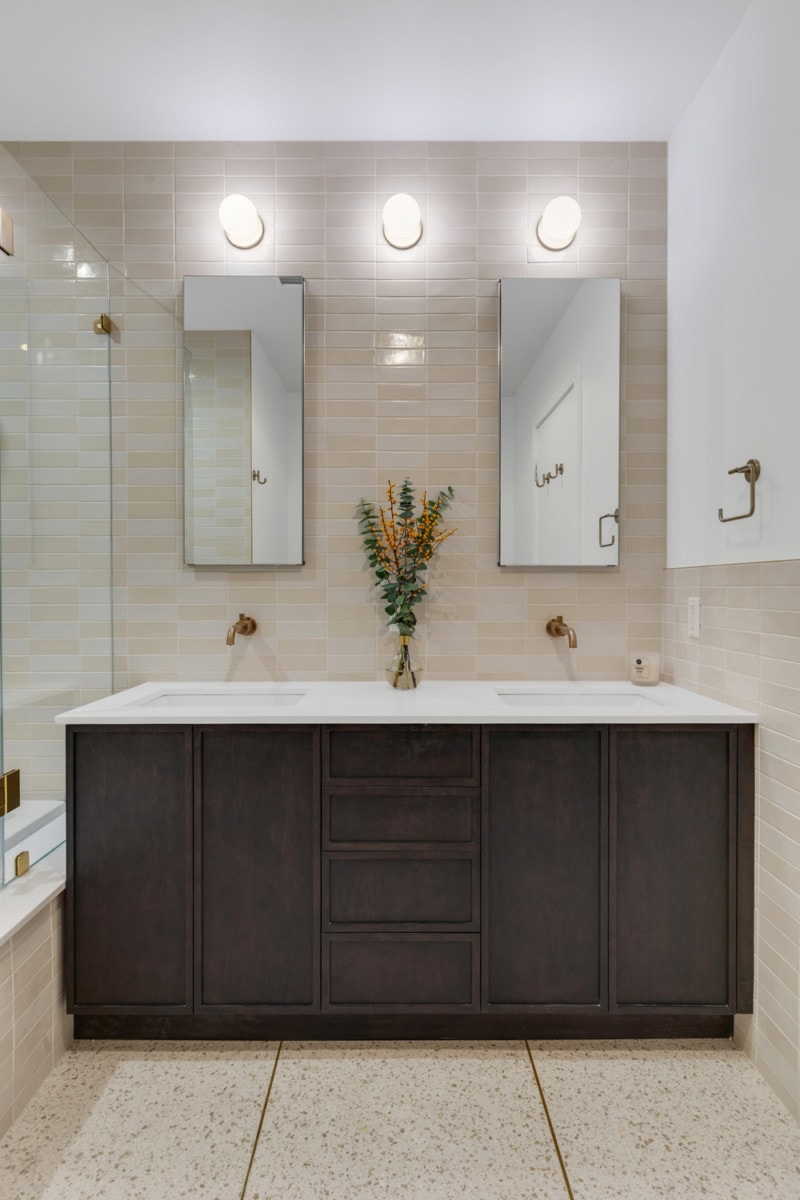 ‍
3. Build: Creating your new bathroom oasis
TYPICALLY TAKES between three and six weeks
The final phase of your NYC bathroom remodel is executing the bathroom render your designer unveiled during the preparation process. This is where most of the work occurs, including; framing the space, upgrading the plumbing and electrical infrastructure, painting, then  installing the tiles, fixtures, appliances, trim, and finishes. The success of the first two phases will largely impact the timeline of this one.
Assuming you worked with an all-inclusive firm and avoided any pitfalls, the build phase should only take between three and six weeks. However, if permits and regulations haven't been cleared, the entire project might have to start over after being flagged for code violations. Or, if you didn't work with a designer who has ties to different vendors, you might not get your fixtures and finishes in time.
Bath remodeling is highly involved — and sometimes pricey, but the process doesn't have to be stressful or overcomplicated. By working with a veteran NYC design-build renovation firm like Gallery, your dream bathroom will be successfully streamlined and burden-free. To begin your luxury bathroom renovation in Manhattan or Brooklyn, contact us today for consultation with one of our design experts.