When we think of a luxury kitchen, we usually picture a large, airy space with an island, the latest appliances, and enough room to comfortably entertain 15 guests. Some kitchens in New York City match this profile, or at least have the space to be transformed to fit. Not all of them do, though. If yours doesn't, you might think that a lack of space means your dream luxury NYC kitchen will always be out of reach.
On average, a one-bedroom Manhattan apartment offers only about 750 square feet of total space. That leaves only about 90 square feet of kitchen space (the city minimum for kitchen space is typically 80). Even larger-than-average kitchens might not provide the type of space you would consider luxurious. However, there's no reason you can't have a small luxury kitchen.
Redefining Your Idea of Luxury
Along with the bathroom, the kitchen is one of the two most common areas apartment owners wish to improve, even when they're perfectly content with the rest of their living space. In fact, new NYC apartment owners spend more than $19,000 a year on kitchen renovations to realize those wishes.
That's because they understand that though they might not be able to entertain 15 people at a time, they can incorporate several smart design concepts to maximize the space. Before giving up on your vision of a luxury kitchen — or spending more than necessary for results you don't love — consider these four tips on how to maximize a small kitchen:
1. Open up kitchen space
Tons of space isn't needed to create an ideal kitchen layout, but the feeling of an open kitchen definitely helps. Try integrating the space with the adjacent living room or dining room and adding an island or peninsula to break up the two areas. The blended space not only adds countertop and storage space, but also gives your kitchen a larger feel with a well-defined footprint.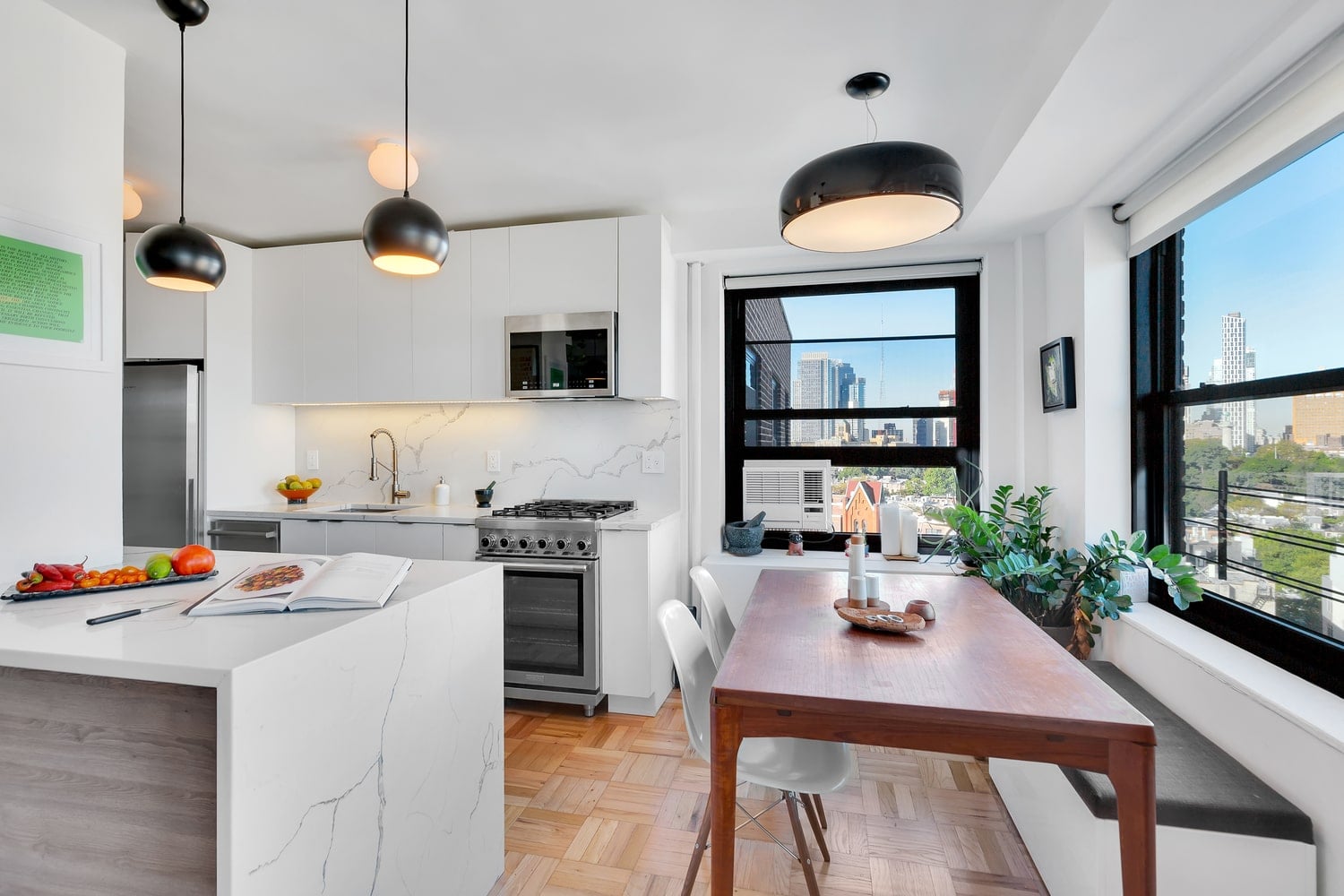 ‍
2. Use open shelving to keep walls clear
Full cabinets can make a small space seem cluttered, so consider including open shelving in your new kitchen design instead. Open shelves provide depth and texture to your kitchen without the clutter, leaving more space for storage and for light to flow through the space. They're also easier to organize and typically less expensive than full luxury cabinets.
3. Turn utensils into functional wall art
Worried about your collection of cooking and cutting utensils cluttering your shelves or taking up valuable real estate on a counter? Use magnetic strips to organize them on the wall and simultaneously add to your kitchen's décor. Consider hanging items like bottle or can openers on your fridge, keeping them in easy reach, while not taking up shelf space.
4. Hang pots and pans like the professionals
Pots and pans take up even more space than utensils, which is why they're often hanging from the ceiling in a professional kitchen. Take that as a cue to implement hanging racks for pots and pans in your own kitchen so you're not sacrificing an entire shelf or cabinet to hold them. They'll give your kitchen that high-end feel and will be easier to sort through than if they were jammed in a cabinet.
5. Consider Furniture Prior To Renovation
As we discussed on Tips For Renewing, Readapting And Rebuilding Your Home By The Experts via Porch, taking your current or new furniture into account with respect to a renovation project is crucial, especially if your renovation includes changing your floor plan. Opening and/or enlarging your kitchen, adding built-ins, or changing the location of a door to a room only to find out that your couch or dining room table does not work within the proposed footprint is indicative of designing in a vacuum or poor planning. It is also a sure way to end up with unplanned expenses or, worse, buyer's remorse. A good designer will always take furniture into account. For more detail, head to Porch and read the full article.
‍
We automatically associate luxury with space, but the true grandeur of a luxury kitchen lies in the quality of the area. In NYC, where kitchens are generally smaller than the national average, recognizing that distinction is  essential to expectations for your dream kitchen design. With these four tips — and with the help of an all-inclusive design-build firm — you can take on a small kitchen renovation in NYC and create the luxurious space you deserve.
Interested in speaking with us about an upcoming interior renovation in NYC? Contact us to see why our New York City apartment renovation and remodeling services are the most mindful choice when considering a residential renovation in Manhattan or Brooklyn.