The thought of finally having your dream kitchen is exciting. But, while imagining all the benefits may be effortless, understanding expenses associated with a custom kitchen renovation or remodel isn't as obvious.
The cost of a kitchen renovation in New York City is a combination of several factors. Between labor, permits, and raw and finishing materials, the average kitchen renovation costs from $35,000 to $250,000. There are also the "hidden costs of a kitchen renovation," which our CEO wrote a separate article on. Remodels in NYC also come with additional stipulations for co-ops and condo owners.
With so many factors to consider, we've broken down the costs of a kitchen renovation below, along with how each factors into the bottom line.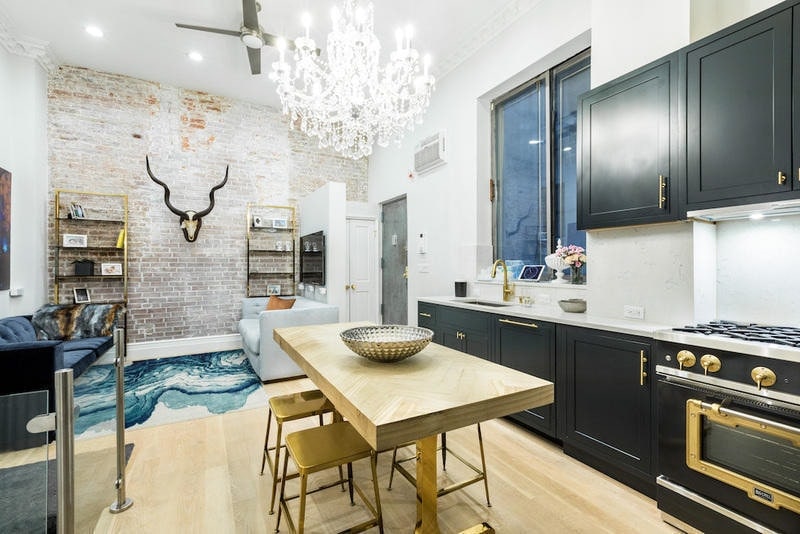 ‍
Kitchen Remodeling Costs In NYC
Exactly how much a NYC kitchen renovation costs will differ from project to project. But several factors are common across the board, including:
Time And Labor
Every renovation includes time and labor costs. The details depend on what contractor is chosen and the scope of project — for example, reconfiguring a kitchen layout will cost more than only replacing the countertops, and a full home renovation will cost more than a kitchen renovation.
Permits And Filing Fees
Most home renovations require some level of filing for permits, which is typically the contractor's responsibility. The specific fees depend on the project and location, and the contractor will determine the submission cost.
Property Type
If the kitchen renovation is an apartment, chances are costs will be higher, as the co-op or condo board will likely impose rules restricting certain work to specific days or times. Most buildings require contractors to finish work by 3:45 or 4PM. This can extend the number of days during which labor must be paid.
The age and condition of the apartment or co-op factors in as well. For instance, if the home is a pre-war apartment and hasn't been renovated in decades, expect to pay slightly more. Often there's an extensive owner history spanning 100 years-plus, making questionable handyman work or outdated materials likely and pre-reno inspections a must. For more information, read Common Surprises When Renovating A NYC Apartment.
Raw Materials
Out with the old and in with the new also means renovating things like the walls and the infrastructure behind them. From electrical and plumbing lines to sheetrock and compound, these rough materials can have a significant impact on overall costs.
Finishing Materials and Fixtures
The cabinets, countertops, tiles, faucets, appliances, pull handles, and finishing materials that make up the aesthetic are the most obvious kitchen renovation costs. Those costs can be high or low, depending on the quality of finishes you choose, but the right contractor will help make the best choice.
Speaking of finishes, those with expensive taste will pay even more if shopping themselves. Retail stores build in hefty margins to cover their overhead expenditures, and fully custom cabinetry and top-of-the-line fixture prices skyrocket as a result.
Condo & Co-Op Boards
If living in a condo or co-op, boards may apply additional costs, relative to the space. For example, they might require replacing plumbing up to the riser or laying waterproof membranes in all areas exposed to water. A full-service contractor or design-build firm will fully take on the approval process with the building management company and co-op board.
Execution Costs
Beyond material, permits and labor costs, consider implementation costs. Who will be managing the renovation? Does the building have any stipulations with added expenses?
When breaking costs down further, the two biggest financial factors are labor and the quality of finishes used throughout the project. But how much of those costs our clients incur depends on how they want to execute the project.
Design-Bid-Build Firm
In this traditional model, a single contractor operates on a labor-only model, charging for labor and raw material only. This approach is considered design-bid-build, and typically leaves residents taking on more of the project management than anticipated. Beyond managing multiple contractors, filing for every necessary permit and bouncing between retail shops to choose cabinets, tiles, and fixtures is costly and time-consuming. Read More: Design-Build vs Design-Bid-Build: What's The Difference?
Design-Build Firm
If working with a design-build firm like Gallery, keep in mind there are various specialties of staff who handle all intricacies of the renovation process (design, architect, project management, material procurement, permit procurement, board approval). This full-service approach carries a cost, so make sure to compare services and not just price.
Designer or Architect
Working with a designer or architect to design the space will add cost. They also require management and coordination with the contractor, which are both included within the full-service design-build approach. Read More: The Pros And Cons Of Design-Build vs. Architectural Firms.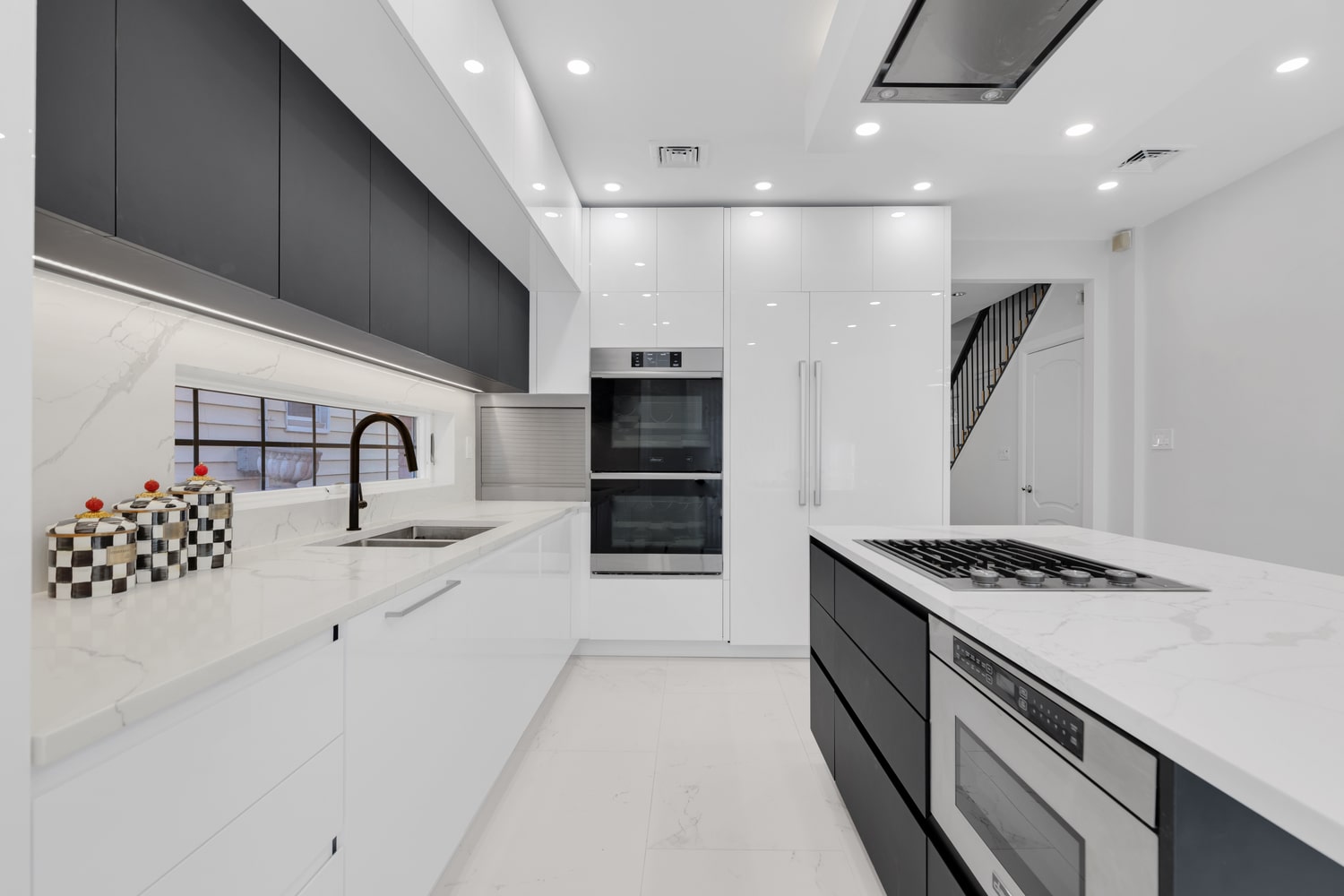 ‍
We're A Full-Service NYC Design-Build Firm SPecializing In Kitchen Renovations
Working with an all-inclusive design-build firm like Gallery KBNY saves our clients time and maximizes their budget for any style of NYC kitchen renovation required. In addition to taking on all design, material selection, and building responsibilities, we eliminate the need for an additional designer or architect. 
Our internal designer will design the space and procure all relevant permits, as well as find the highest-quality finishes desired for whatever level of luxury kitchen design is required. As a dealer for several high-end lines of cabinetry, we can offer semi or fully custom fixtures at much lower prices than found walking into a Manhattan showroom, since we pass our trade discounts to clients.
We're seasoned co-op and condo contractors in NYC who handle any board stipulations that could hold up the kitchen renovation. Clients aren't surprised by cost overruns or unexpected invoices, because our proposals include all project costs, including board stipulations.
Thinking of renovating a condo/co-op, loft, brownstone/townhouse, or pre-war apartment in NYC? Learn more about Gallery, browse our Before + After portfolio, then see What Our Clients Are Saying. Ready to renovate? Contact us to set-up your initial consultation and see why our New York City apartment renovation and remodeling services are the most mindful choice when considering a residential renovation in Manhattan or Brooklyn.