Informally, [.test-class]people[.test-class] often use the term gut renovation to mean a complete remodel in which every surface, appliance, and fixture is upgraded. However, a true gut renovation involves stripping down interior walls, reworking plumbing and electrical wiring, plus much more. 
So, how much does a gut renovation cost? Understanding both baseline and underlying expenses is key when gauging how much a NYC gut renovation costs. From there, the question is whether or not the added value is worth the added investment of time and money. Once we break down what goes into a full gut renovation in NYC, the gains become crystal clear.
Average Base Cost For A Gut Renovation In NYC
Brick Underground confirms the average cost for a gut renovation in New York City is $250 to $300 per square foot (including labor and mid-range materials), while higher end gut renovations run around $400 to $600 per square foot, then all the way to $800 per square foot in extremely custom, luxury renovations. Expect to pay around $450,000 to $540,00 to gut renovate an 1,800 square foot condo with mid-range materials. 
‍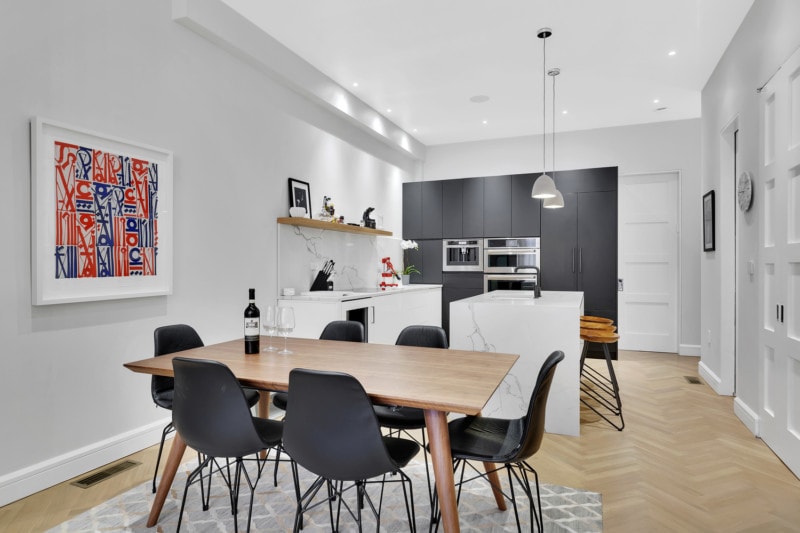 ‍
Unforeseen Costs And Complications
Pre-War Status Adds Effort 
NYC is home to some of the oldest properties in the country, including most of the city's esteemed pre-war buildings. In turn, many New York City renovations are gut renovations by necessity. Often, inspectors have to perform open wall inspections, where no significant work can be completed until they're finished. Some properties have histories of poor upkeep and contain old, unsafe materials that aren't up to code, which will need to be replaced. 
When considering a gut renovation for a pre-war property in NYC, expect a longer timeline and added costs. Those costs are relative to the size of home being renovated and quality of replacement materials being used. 
Boards, Permits & Approvals 
Additional costs are often associated with the following permits and tests, which must be handled prior to any gut renovation in New York City. As a full-service design-build firm, we handle all these necessities for our clients. 
Asbestos Test
Testing for asbestos in the early planning stages is not only smart planning but often required in order to file architectural plans. As part of this process, we plan for any added effort required for removal or see if there are workaround cost saving measures that can leave the asbestos undisturbed. By law, if work disturbs the asbestos, mitigation is required and bringing in an asbestos remediation company for asbestos removal and air quality monitoring is likely needed. However if preliminary tests confirm asbestos won't be disturbed during the work, we'll plan to avoid the area and issue altogether.
Electrical Test 
There are two reasons for an electrical test before an NYC apartment renovation. The first is to confirm there is no cloth wiring, a standard in the 40's/50's that will no longer pass inspection. The second is to ensure the electrical capacity of the apartment can handle the proposed electrical load of the renovation - which isn't always the case in older buildings. 
Plumbing Inspection
Required if renovated areas touch plumbing, such as the kitchen or bathroom.  
Building, Electrical, and Plumbing Permits from Department Of Buildings 
Consider costs associated with filing architectural plans, along with obtaining all building, plumbing, and electrical permits. At times this also includes handling all landmarked related approvals. 
Internal Updates 
If inspections uncover concerns, they'll have to be addressed. Problems like asbestos, cloth-wrapped wiring, galvanized and corroded plumbing, and improper framing can't be allowed to remain. An experienced design-build contractor should have the ability to anticipate many of these surprises, prior to any work starting.
At Gallery, we go one step further and actually include supplemental costs of these items up front, should they come to fruition. If they don't, perfect - we're under budget. This experience and foresight eliminates any surprises while keeping everyone honest.
‍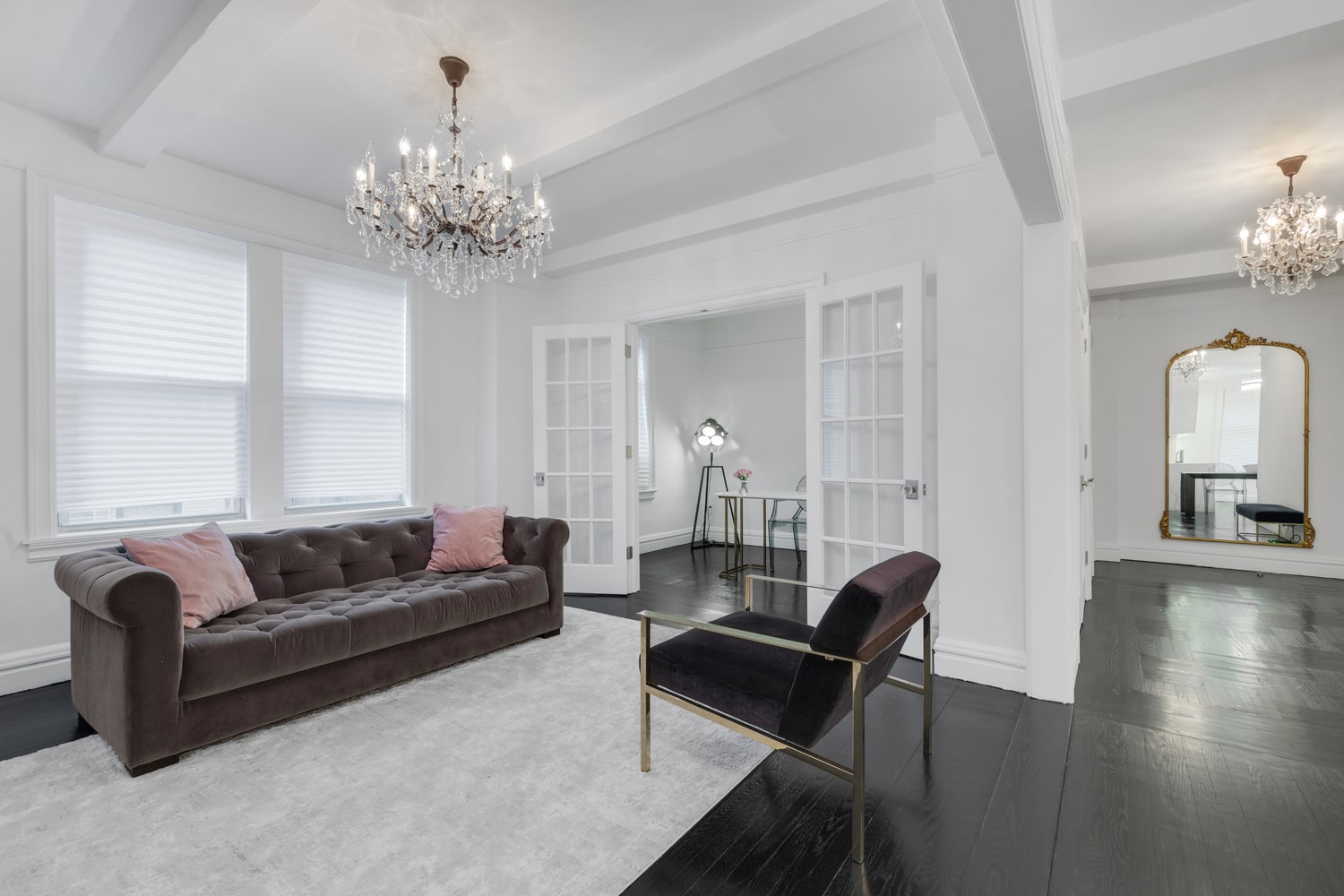 ‍
Is A Complete Gut Renovation In NYC Worth The Cost?
In short, yes. If budget allows and you're willing to make whatever time is needed to properly renovate your esteemed NYC property, the value added to the home or apartment will warrant the cost and time of a full gut renovation.
Who Benefits From A Full Gut Renovation?
Short Sellers 
Those looking to resell in the short or near future will be at ease knowing the home is in pristine shape with zero updates required, making a sale extremely comfortable for both parties. 
Forever Home 
Anyone looking to make the space a forever home can consider the added peace of mind from knowing their high-end investment is built to hold up indefinitely with a personalized design that meets their every need.
A Typical Gut Renovation Timeline
Every gut renovation timeline looks different, depending on the home type and amount of work being done. On average, expect timelines similar to these:  
Planning & Prep Timeline
If the gut renovation doesn't require building additional rooms or significantly restructuring the space, the planning process takes approximately 90-120 days.
A common factor that extends the planning phase is whether the proposed gut renovation takes place in a landmarked building or whether the renovation requires architectural plans. In this scenario, the plans must first be submitted to the building's reviewing architect for approval.  
Construction & Renovation Timeline
Every gut reno is different and the respective timelines are impacted by the scope, site conditions and building rules. Normally, a gut renovation of an average-sized apartment renovation takes 5-7 months although timelines can vary based on the specific factors. 
For the full gut renovation process and timeline, including design and planning details, read our extensive breakdown of New York City Gut Renovations 101. 
‍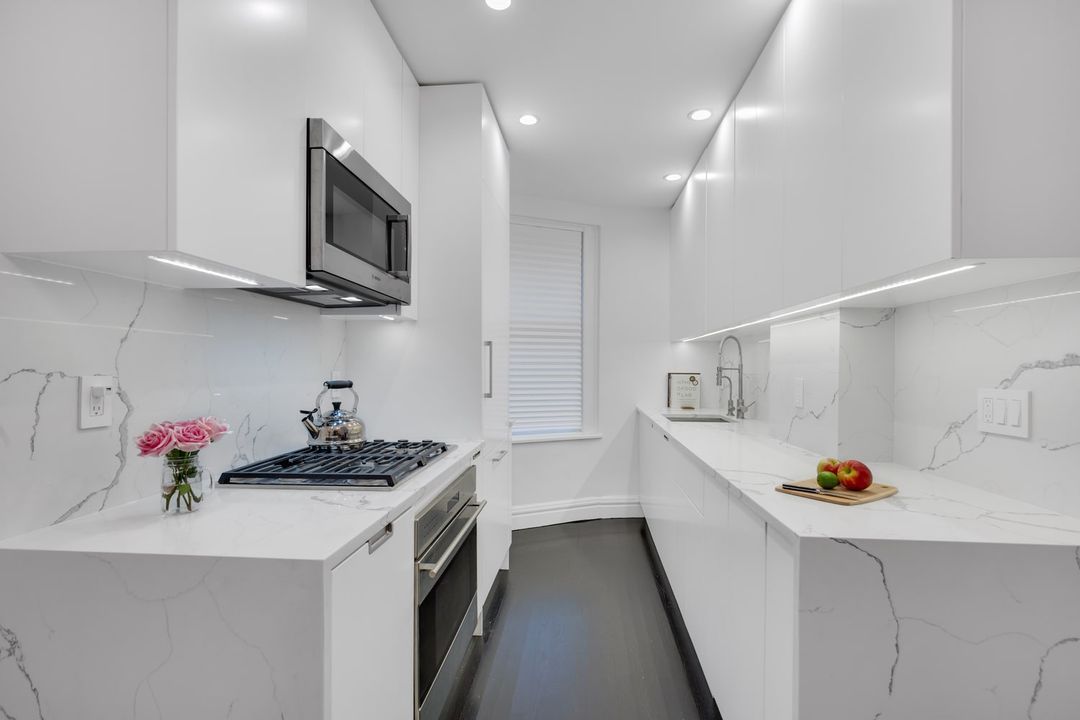 ‍
Gut Renovation Contractors In NYC 
A gut renovation in New York City is a sizable endeavor, but working with a trustworthy team of design-build experts will make costs and meeting a timeline much more manageable. To determine a true bottom line, contact us to set-up your initial consultation and see why our New York City apartment renovation and remodeling services are the most mindful choice when considering a residential renovation in Manhattan or Brooklyn.
‍