As a design-build firm, one of our largest areas of expertise is flooring. No matter what type of renovation is on your mind – a brownstone in Park Slope, a loft in Soho, an apartment in DUMBO – the flooring will almost certainly be an important design factor. From materials to installation methods, learn more about flooring in New York City home renovations. 

There are three main flooring types: solid hardwood floors, engineered floors, and tiled floors. Tiles are, of course, de rigueur in bathrooms, while kitchens will usually contain either the same type of flooring that extends throughout the rest of the home (whether it's hardwood or engineered) or a combination of the two, with a tiled section for ease of use in the kitchen.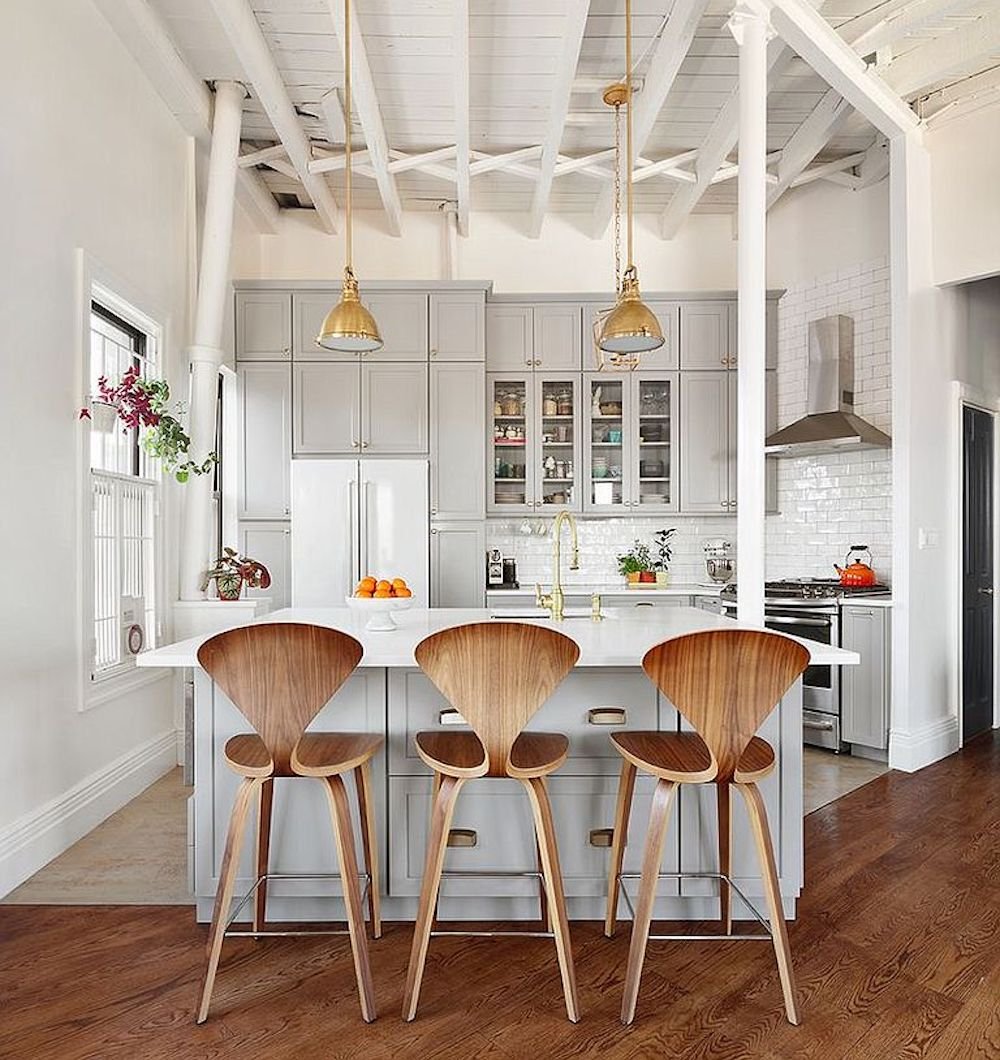 Solid Hardwood Floors

Solid hardwood comes in a variety of wood species, which are then separated by grade based on level of imperfections. Some common species include oak, cherry, pine, hickory, and walnut, though oak reigns as the most popular overall. 

American oak is popular in both white and red, with a larger grain than its European counterparts, which tend to be sourced from France, Germany, and England. European Oak tends to be more durable, with French Oak in particular is a common luxury flooring choice. 

Among our clients, the most popular is a 5-inch wide plank select oak, with select referring to the grade.

Learn the lingo: There are three grades of wood: Select, #1 Common, and #2 Common. Select is considered top-tier, the highest grade. The main difference as the grade decreases has to do with the color variation; the more variation, the lower the grade. If you're looking to be smart with your budget and aren't too worried about color variations, a lower grade is one way to do it.

Pro: Traditional hardwood floors can be sanded down and refinished numerous times during their lifespan.

Con: They are more expensive.

Engineered Floors

Engineered floors are made of numerous thin layers, but only the top layer is true real hardwood. The other layers are typically composed of wood, polymers, and resin. In a nutshell, that's the main material difference between the two. The additional pros and cons come into play when we start to talk about actually getting this new flooring installed and ready to be walked upon!

Pro: Engineered wood floors are more resistant to scratches and damage when compared to hardwood, as well as traditionally less expensive. 

Con: Because there is only one layer of hardwood, they can only be sanded down once or twice during their lifespan.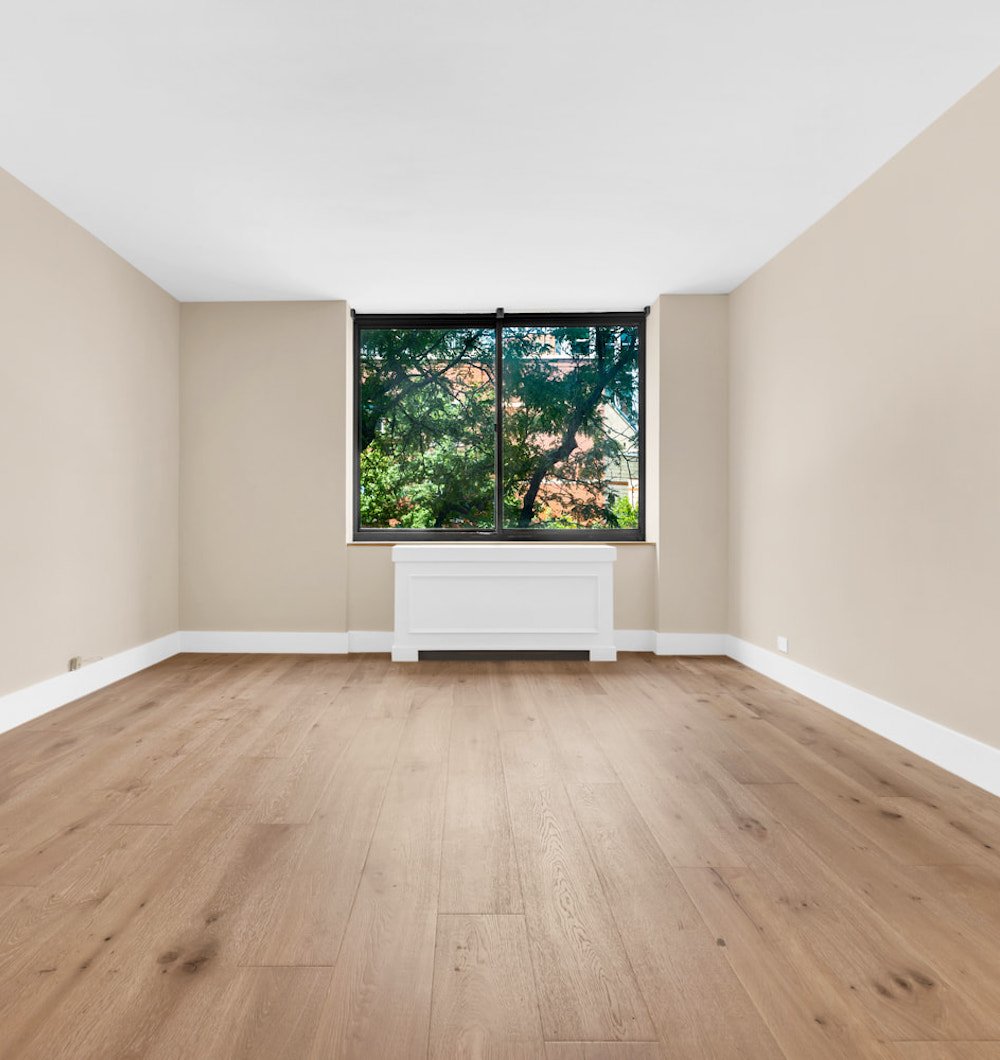 Installation Methods

A huge factor in the flooring conversation is whether or not to remove the existing floors. Traditionally, most clients opt for an entire removal, with new floors installed instead. But some situations do call for keeping the existing floors, especially in NYC apartments. It's a one-word answer and that word is asbestos. If existing floors contain asbestos, to remove them requires asbestos remediation, which many people would rather avoid. Undisturbed asbestos poses no threat, so it's common to leave the existing floors alone and simply install new floors over them. 

In this scenario, engineered flooring is the better option. Why? Simply because they're thinner. If you're not ditching the original floors, it becomes even more important to maintain floor height. Adding to the floor height is to be avoided, as it will impact doors and other crucial design elements. Hardwood can also be installed over existing floors, but it's a much less common occurrence. 

Design & Seal 

Another talking point in the flooring conversation revolves around sealing. Hardwood floors come in two types: pre-finished and unfinished. The unfinished kind needs to be sanded, stained, and sealed to the stain or preferred color. The important questions are: When you seal it? Do you seal it with oil or polyurethane? If you're doing an unfinished floor, how do you seal it?

From the design-driven side, the most important question is the 'pattern' of the wood: straight-plank (which is what it sounds like), herringbone (the zigzag often seen in kitchen backsplashes), and chevron (herringbone's cousin, with the zigzag coming in at a different angle).
Kitchen Floors
A common sight in kitchens is either the same hardwood/engineered flooring that is continued through the rest of the home OR porcelain; sometimes marble. We typically don't recommend marble in the kitchen because it's a soft stone. If you drop a pot or a knife slips out of your hand, the odds that it will damage the floor are high. Marble must be kept up or it will stain, so it's a high-maintenance material too. 

From a design perspective, if your home has an open floor plan, continuity is the main factor. If you have an island and the kitchen is largely visible from the rest of the space, the best design sense is to continue with the existing floors. In spaces that are less open, such as galley kitchens or ones where the island is a peninsula, the continuity of the hardwood/engineered is less relevant. In those instances, porcelain makes for a great threshold tile. It's not porous, so it's much easier to maintain and clean – ideal for the kitchen.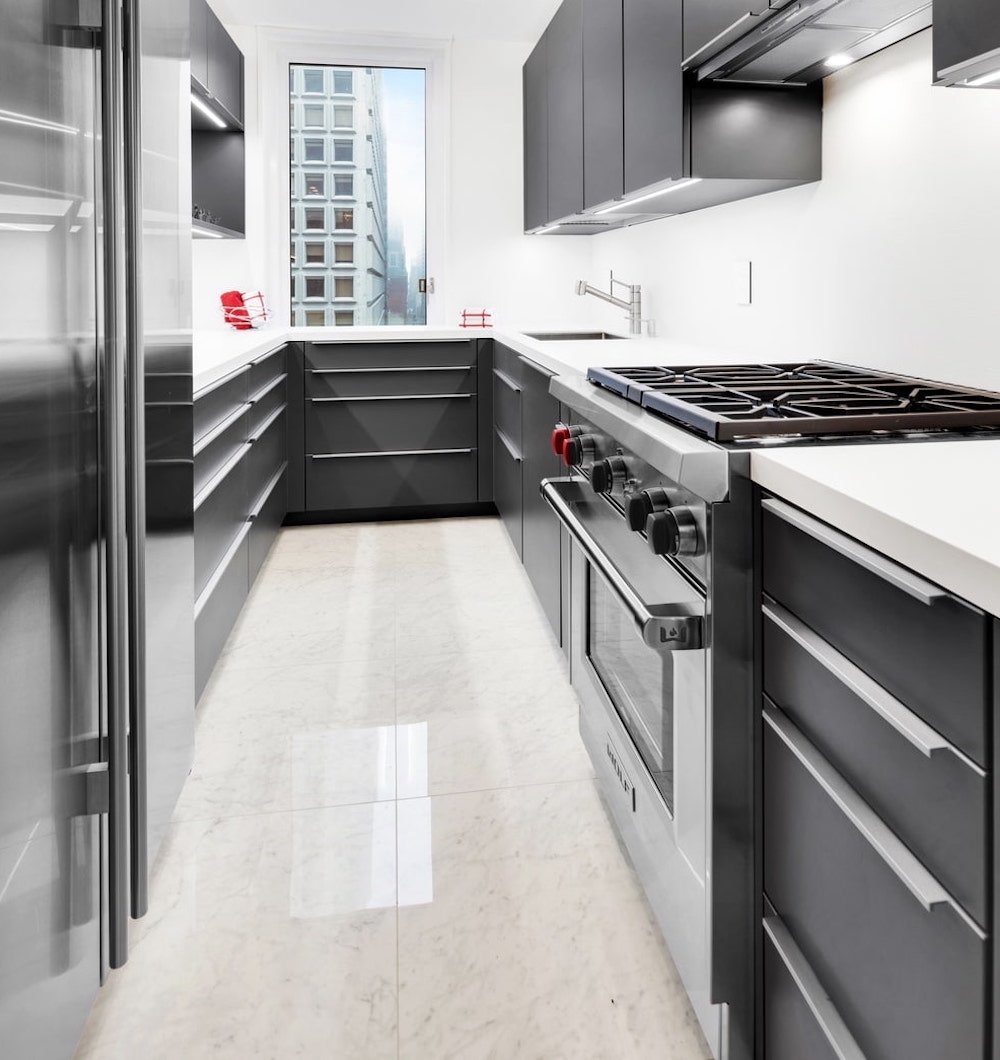 ‍
Bathroom Floors
Bathroom flooring is a conversation entirely its own due to the large variety of stones – a topic for another day. For our purposes, the main factors when choosing bathroom flooring includes both the general interior design aesthetic as well as grout. Clients who don't want to see all that grout tend to prefer large slabs over smaller tiles. 

Marble is a popular luxury tile used in the bathroom, providing a soft, pleasant sensation under the feet. It does require upkeep to prevent staining, but dropped items are much less likely to cause any damage in the bathroom. Other common choices for bathroom floor tiles include porcelain, Dekton, or quartzite.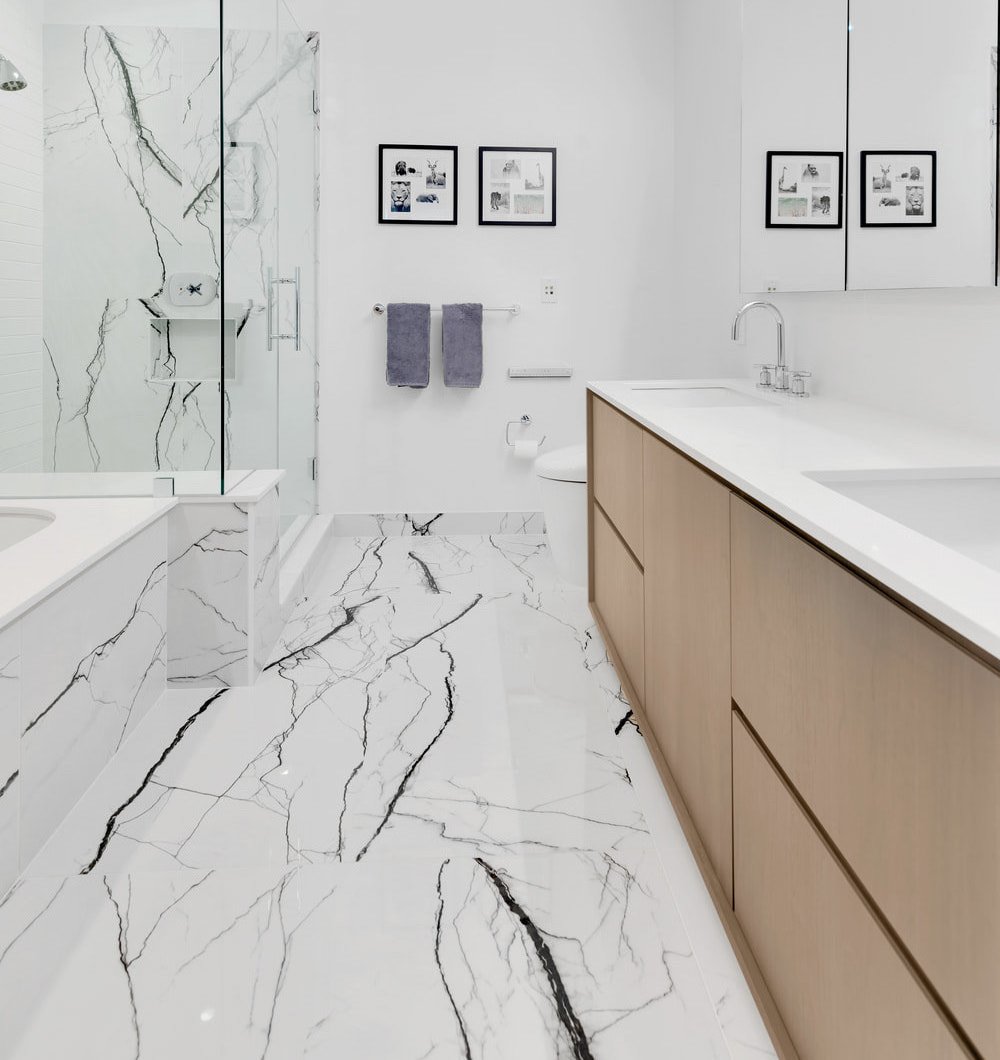 APARTMENT RENOVATION CONTRACTORS IN NYC 
Every apartment renovation is different, but each one will require at minimum a conversation about the flooring. From the biggest questions (Hardwood or engineered?) to the most precise details (Which color to choose for the stain?), we're here to share our expertise. Gallery's full-service design-build process means we handle NYC renovations from start to finish, driving all aspects of the project from interior design and architectural planning to building board management and demolition plus construction. Ready to renovate? contact us for a consultation.
‍